On 20th March, George Osborne woke to a dreary morning on Downing Street, knowing that today he would briefly become the most hated man in Britain. He knew fully well that the day would be an embarrassing day both for himself and for his party – as he would reveal that the Conservatives have seen sluggish economic growth. Despite predicting 1.2% growth by 2013 in the Autumn statement just months ago, progress remains poor and 0.6% is the new prediction. More targets were not on track to be met: in the Autumn statement, Osborne predicted that the proportion of national public sector debt as a share of national income falling by 2015/16. Later today, the budget would reveal that this would not begin happening until 2017/18, two years off target. Borrowing is also higher than expected – hitting an eye-watering £114 billion in 2013, compared to Osborne's previous forecast of £108 billion. All in all, it was not a good day to be the Chancellor of the Exchequer.
So what did Mr Osborne do to soften the blow of this bad endless bad news? He joined Twitter. About two years late. His first tweet was a cringe worthy photo of himself writing the Budget, with the infamous red case on the table. The caption read "Today I'll present a Budget that tackles the economy's problems head on helping those who want to work hard & get on". His new Twitter presence evoked an array of reactions from the general public, politicians, journalists and comedians.
Here are a sample of the best replies to Osborne's first tweet:
From @george_osborne's twitter it looks like he's just started writing the budget an hour ago. Quality will likely reflect this.

— Jonathan Pryor (@Jonathan_Pryor) March 20, 2013
@tomjamesbrook @george_osborne is a fuckin fuckpig fuckin wankfaced smug cun…..oh bugger you were right it's impossible! #Budget13

— Shug M (@weeshug72) March 20, 2013
@george_osborne Do one, Gideon. Honestly I'd trust Jimmy Saville with my kids more than I trust you to understand how we live. #richvspoor

— Chris Knight (@chrisknightuk) March 20, 2013
@george_osborne I hope that you got a new calculator for Christmas from your pal Dave as quite clearly your old one was broken

— Craig Honeyman (@Craig_Honeyman) March 20, 2013
When the time came, Osborne delivered his speech with a quavering voice, pausing numerous times for a sip of water. The more his voice wavered, the louder he shouted over a rowdy House.The true star of the show on Budget day was to be the leader of the opposition, Ed Miliband. As is customary in British parliament, he delivered a speech critiquing the Chancellor's poor report. Yet the end of Ed Miliband's speech was where he really hit home, and started a Twitter storm in the process. Miliband said:
"All he has to offer is just more of the same budget. Today, the chancellor joined Twitter. He could have got it all into 140 characters: growth down, borrowing up, families hit, and millionaires laughing all the way to the bank. #downgraded chancellor."
Hang on – did he actually just say the word "hashtag"? In Parliament? My inner teenager groaned and puts her head in her hands. Hearing Miliband in his posh public school boy accent saying the word "hashtag" was so incredibly cringey. He was invading the sphere of the young and hip, but without being either.
But Miliband's cringe-worthy statement actually proved very successful. Shortly after leaving Parliament, he tweeted the following picture: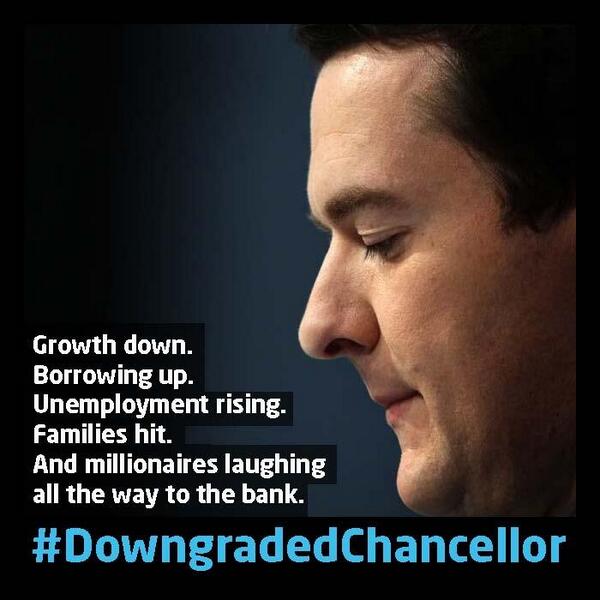 This received over 1,500 retweets and the hashtag #DowngradedChancellor was trending on Twitter for a few hours that evening. Osborne and Miliband exemplify how politicians' use of social networking can either aid them or go very, very wrong. Perhaps the success of Miliband's hashtag attack will be replicated by politicians to come. It would be interesting to see if US politicians to follow in Miliband's footstep and use hashtags in political speeches. Surely it will not be long before we see debates riddled with hashtags – after all, US politicians have already proved far savvier in utilising social networks for political means. For instance, #StandWithRand became a nationwide trend on Twitter when Senator Rand Paul conducted a 13-hour filibuster against Obama's CIA nominee John Brannan. As Ericka Anderson sums up in an article on the Huffington Post, "hashtags corralled a legitimate, constructive conversation by multiple thousands into one space. The only way it could be accomplished was with hashtags. It was a victory for social media in an era when bringing partisan sides together in such a way is no small feat."